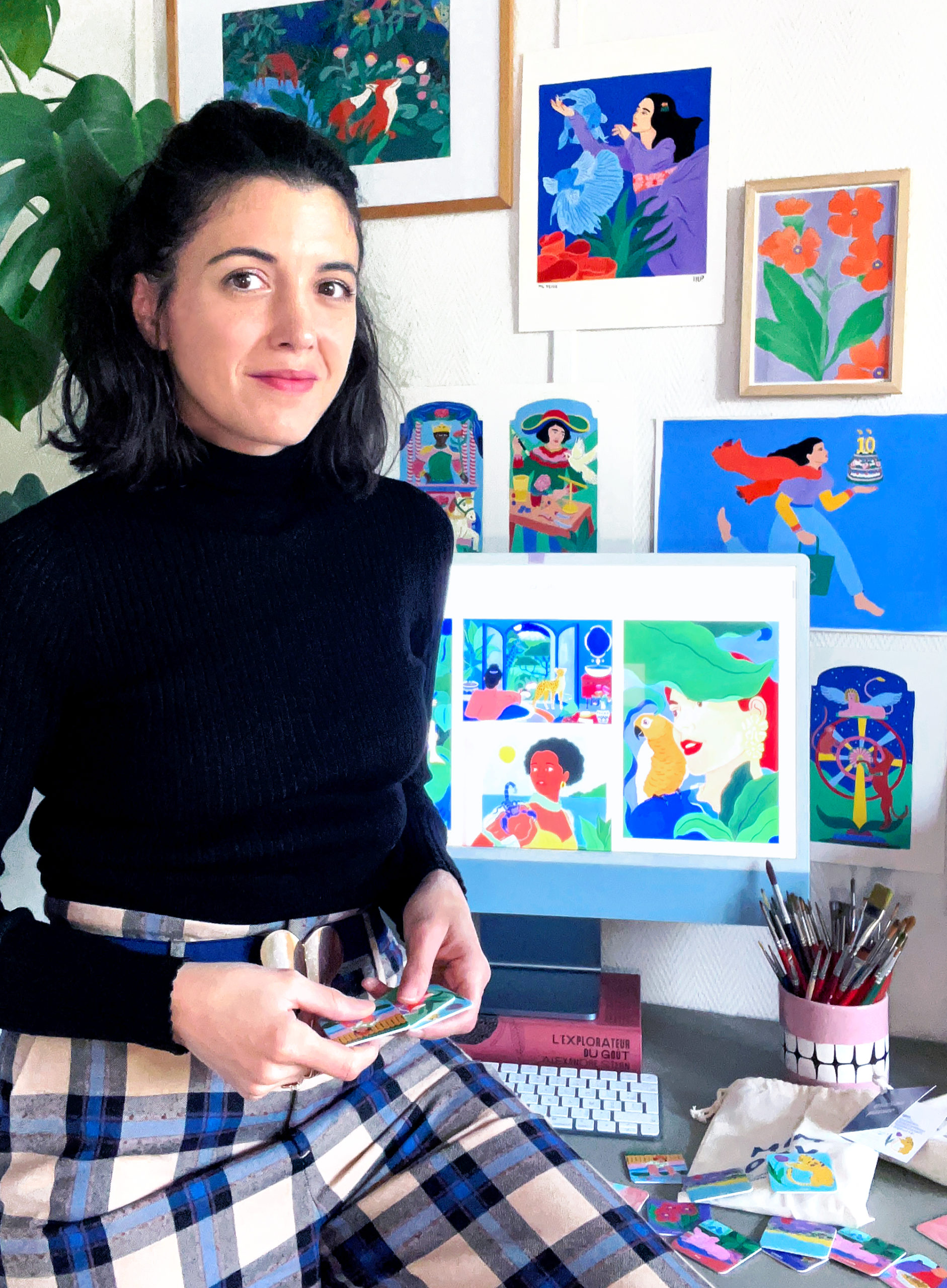 Marie Pellet est une illustratrice française basée à Paris
Après 10 ans comme maquettiste dans une agence de presse, elle s'est lancée en tant qu'illustratrice indépendante en 2020.
Elle peint à la gouache, compose sur support numérique et réalise également des créations en céramique. L'illustratrice aime dessiner les femmes, les animaux, la végétation, mais aussi les objets du quotidien qu'elle aime rendre singuliers par l'infinie variété des couleurs et de la composition. Marie revendique un style naïf, intemporel, un regard enfantin sur tout qui lui permet d'apporter un éclairage nouveau sur tout ce qui nous entoure.
Pour toute demande concernant un projet, une collaboration, merci de contacter :
hello@mariepellet.com
+33 6 15 48 55 81
Marie est représentée par Agence Pépite (FR)
Marie Pellet is a French illustrator based in Paris
After 10 years as a layout artist in a press agency, she started as a freelance illustrator in 2020.
She paints with gouache, composes on digital media and also makes ceramic creations. The illustrator likes to draw women, nature, animals, vegetation, but also everyday objects that she likes to make singular through the infinite variety of colours and composition. Marie claims a style that is willingly naive, timeless, a childlike look at everything that allows her to shed new light on everything that surrounds us.
For any request concerning a project, a collaboration, please contact :
hello@mariepellet.com
+33 6 15 48 55 81
Marie is represented by Agence Pépite (FR)
Ducasse Édition, Le Prescripteur, Ekhi Wine, Maison Patate, Kumaneko, Îlots magazine, Hello Merci, Les Nouveaux Affineurs, Polette, Marie-Claire, La Thé Box, Parti Pris, VJ. Sourcing, Adopt', Vanity Fair, Mairie de Boulogne-Billancourt…
De l'œil à la main
Galerie Doux Dimanche
Collective exhibition
December 2020 • Tokyo
www.2dimanche.com